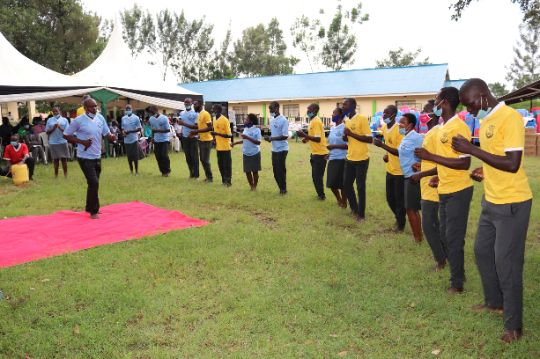 TALKING POINTS FOR THE GOVERNOR DURING LAUNCH AND FLAGGING OFF OF ECDE LEARNING MATERIALS AND VETC TOOLS AND EQUIPMENT ON  JANUARY 19  2021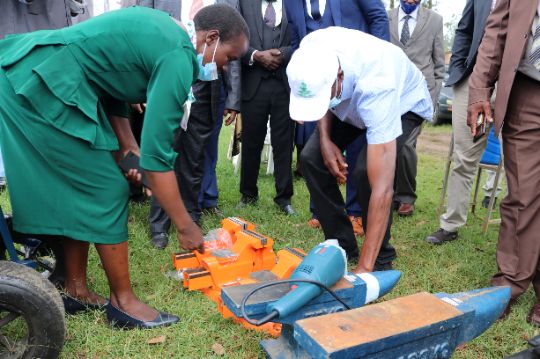 TALKING POINTS FOR THE GOVERNOR DURING LAUNCH AND FLAGGING OFF OF ECDE LEARNING MATERIALS AND VETC TOOLS AND EQUIPMENT ON  JANUARY 19  2021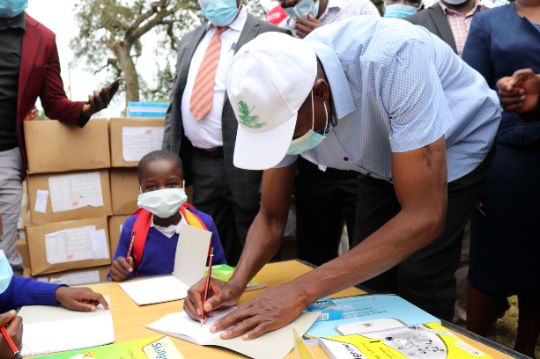 TALKING POINTS FOR THE GOVERNOR DURING LAUNCH AND FLAGGING OFF OF ECDE LEARNING MATERIALS AND VETC TOOLS AND EQUIPMENT ON  JANUARY 19  2021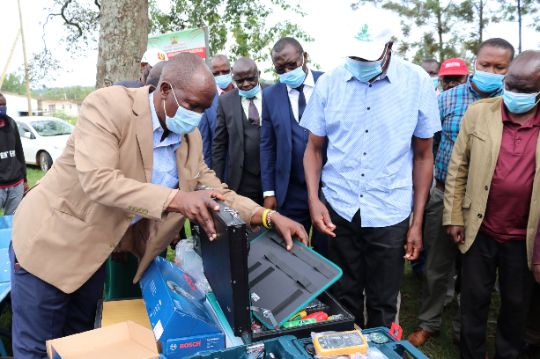 TALKING POINTS FOR THE GOVERNOR DURING LAUNCH AND FLAGGING OFF OF ECDE LEARNING MATERIALS AND VETC TOOLS AND EQUIPMENT ON  JANUARY 19  2021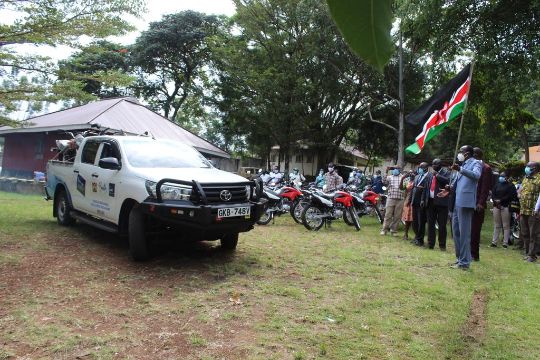 Flagging Off Vehicles And Motorcycles For National Agricultural And Rural Inclusive Growth Project (NARIGP)
WRITTEN BY SUPER USER 
Today His Excellency Okoth Obado flagged off two vehicles to Agriculture-County Project Coordinating Unit and and twenty motorbikes to technical staff in the National Agricultural and Rural Inclusive Growth Project (NARIGP) for the implementation of the project's activities. NARIGP is a 5-year project that started in 2016 and is funded by the World Bank with an objective of increasing agricultural productivity and profitability among selected smallholder farming communities. Apart from NARIGP, Governor's Administration continues to support food, nutrition security and income generation to farmers through the Agriculture Sector Developement Support Program (ASDSP) and Aquaculture Business Developement Project supported by IFAD which supports fish production across the county. His Excellency applauds the partners in the project for considering to invest in small scale-scale farmers who contribute about 75 per cent to Kenya's food basket, He also held a meeting with the Kazi Mtaani team. On this, The Governor appreciated His Excellency the President for the program that is geared towards integrating jobless Kenyans in urban hygiene and sanitation works across 23 informal settlements. The project is aimed at utilizing labour-intensive approaches to create sustainability in the urban development sector. Thank you and may God bless you all.

construction of the Migori County Speaker's House

WRITTEN BY SUPER USER 
Governor Okoth Obado presided over the groundbreaking ceremony for the construction of the Migori County Speaker's House. Through this, the administrative, political, social and managerial roles of the Assembly will effectively be realised; thus promoting democracy and good governance as stipulated in the Constitution of Kenya,2010.This is a noble initiative meant also to strengthen devolution for the benefit of the people of Migori. 
 Thank you and May God bless you all.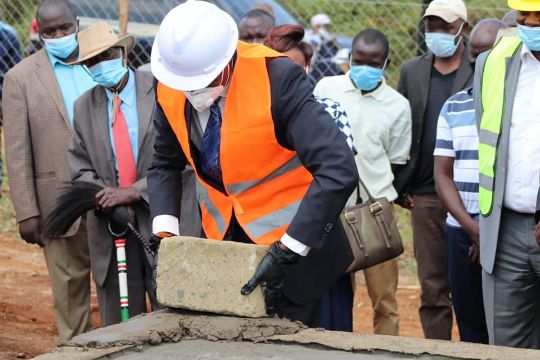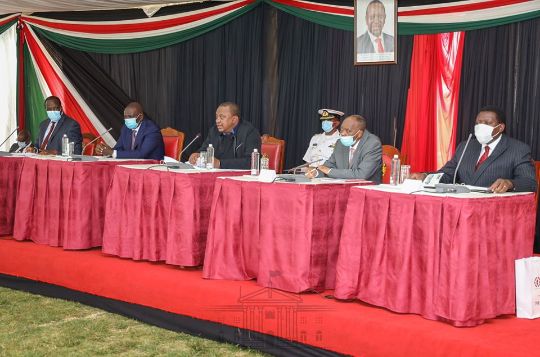 National and County Governments agree on terms for gradual re-opening of the economy
WRITTEN BY SUPER USER 
A meeting of the national and county governments convened today by President Uhuru Kenyatta at State House, Nairobi agreed on a raft of Covid-19 response measures to be put in place ahead of the gradual re-opening of the country's economy. The measures which are aimed at safeguarding Kenyans against the adverse health and socioeconomic impacts of Covid-19 include the attainment of a national 30,500 isolation bed capacity within one month. The third extra-ordinary session of the national and county governments co-ordination summit set the target of 300 isolation beds for each county so as to deal with the rising cases of infections, currently in 35 of the country's 47 counties. In addition to raising the isolation bed capacity, the meeting which was also attended by Deputy President Dr William Ruto tasked county governments to review their fiscal and strategic plans for the 2020 to 2021 financial year to include Covid-19 prevention and control measures. To address the growing public pressure to re-open places of worship including churches and mosques, the summit agreed to involve the Council Governors in the ongoing consultations being undertaken by an inter-faith council. So as to ensure the smooth reopening of schools and other institutions of learning, the summit agreed to involve the Council of Governors in the ongoing education sector stakeholder consultations. The consultations led by Education Cabinet Secretary Prof George Magoha will lead to the issuance of a new school calendar in line with the recent Presidential directive to re-open schools in September this year. 

DISTRIBUTION OF RELIEF TO THE FLOOD VICTIMS IN NYATIKE
WRITTEN BY SUPER USER
Together with the Devolution CS Eugene Wamalwa, colleague Governor's Oparanya, Awiti, Nyong'o and County Women Rep Pamela Odhiambo the governor distributed food donations to flood victims in Angugo,Nyatike Sub County.
 Much appreciation to the devolution ministry for the great gesture! #MyCounty_MyPride..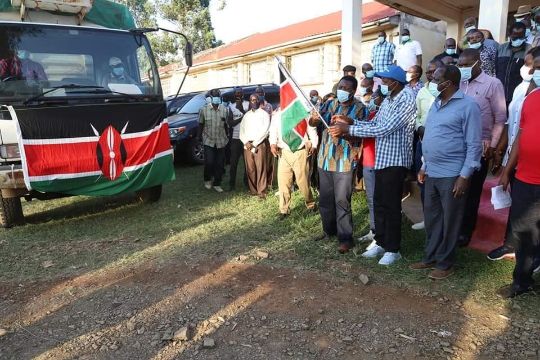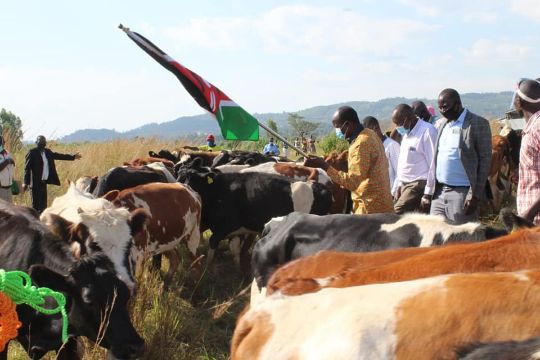 launch of the fourth edition of One Dairy Cow per Sugarcane/Tobacco farmer county project.
WRITTEN BY SUPER USER 
We gave out a total of 470 incalf dairy cows and 104 Sahiwal breeding bulls during the launch of the fourth edition of One Dairy Cow per Sugarcane/Tobacco farmer county project. We identified beneficiaries in the eight sub counties with the key objective of improving on the dairy herd in terms of numbers and quality. 
 The project will go a long way in increasing Milk production thus ensuring food and nutritional security and also increasing incomes of farm families in Migori County. So far, out of this two projects we,ve been able to achieve 152 passes - of calves to other farmers within the clusters and realized 78 Sahiwal offsprings in Nyatike sub county. Thank you and May God bless you all.

the county's fight against covid-19
WRITEN BY SUPER USER 
Governor Okoth Obado had a fruitful meeting with the Rt Hon Raila Amollo Odinga where they discussed about the status of Covid-19 pandemic in Migori County. Today, we are happy to have received assortments of Personal Protective Equipments (PPEs) courtesy of the meeting. We also received 48 water tanks from Lake Victoria South Works Development Agency and other donations from the British American Tobacco Company. This is a big boost to the people of Migori County in our fight against the spread of Covid-19. God bless you all.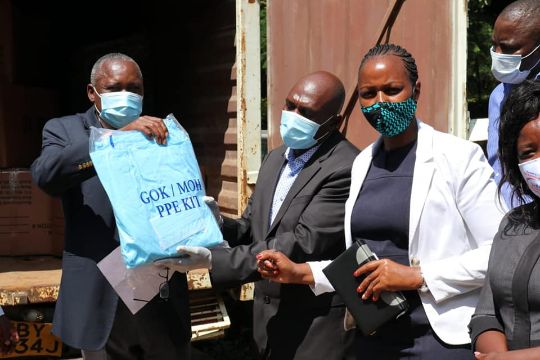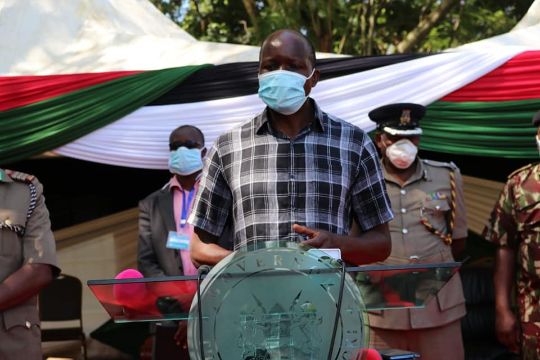 covid-19 response team meeting
WRITEN BY SUPER USER
Together with the Nyanza Regional Commissioner James Kianda,the governor held a meeting with the Migori County Covid 19 Response team. We discussed amongst other issues the level of the County's preparedness in tackling the Covid-19 pandemic. The team later proceeded to inspect the Kenya/Tanzania boarder at Isebania. I still call upon the residents of Migori to adhere to the stipulated guidelines and practices in order to curb the spread of Corona Virus infections. Thank you and may God bless you all. #MyCounty_MyPride #KomeshaCorona #StayatHome

LAUNCHING OF 6TH EDITION OF GOVERNOR'S SCHOLARSHIP
WRITEN BY SUPER USER CATEGORY: MIGORI COUNTY ADVERTS
Governor Okoth Obado launched the 6th edition of the governor's scholarship programme dubbed 'Masomo Kwa! Wananchi'.
 The education scheme targets 200 bright but needy students who have scored 350 marks. The governor's scholarship programme offers comprehensive high school education support to the qualified students across the county.
 The programme targets only Migori County pupils who excelled in the Kenya Certificate of Primary Education (K.C.P.E.) from every Ward. 
With this type of sponsorship, we will be able to improve the level of education in the county and give the needy students a chance to realize their dreams of learning.
 I am also proud of the 124 students who scored university grades in the last year's exams. Thank you and May God bless you all.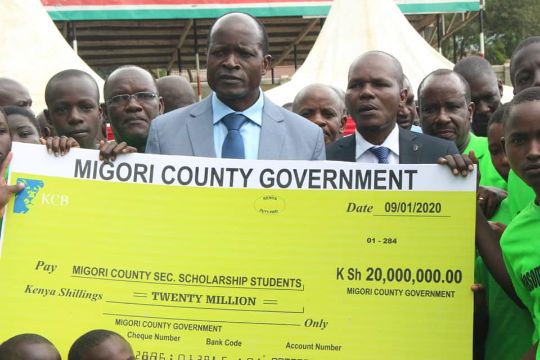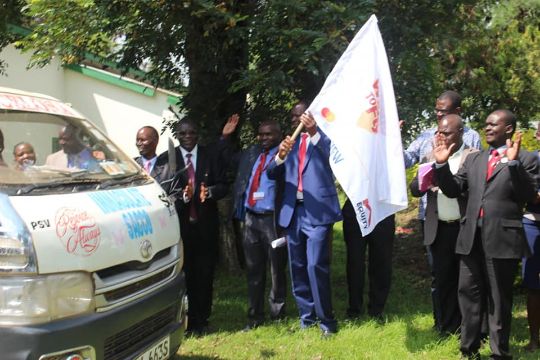 GOVERNOR FLAGS OFF "WINGS TO FLY" SCHOLARSHIPS
WRITEN BY SUPER USER CATEGORY: MIGORI COUNTY ADVERTS
The governor flagged off the equity bank sponsorship dubbed "Wings to Fly" to bright but needy students across Migori county.Suspendisse rutrum ipsum in quam semper laoreet. Praesent dictum nulla id viverra vehicula. Vestibulum ante ipsum primis in faucibus orci luctus et ultrices posuere cubilia Curae; Maecenas ac nulla vehicula risus pulvinar feugiat ullamcorper sit amet mi.
Nam et nulla rutrum, dignissim eros quis, dictum eros. In ullamcorper molestie neque, ac faucibus felis efficitur sed. Nam et tristique nisi. Cras iaculis venenatis libero. Suspendisse fermentum, ipsum ac facilisis elementu.
HIS EXCELLENCY ZACHARY OKOTH OBADO TOOK HUMANITARIAN RELIEF MATERIALS TO PARTS OF MIGORI COUNTY AFFECTED BY THE ON-GOING FLOODS.
WRITEN BY SUPER USER CATEGORY: MIGORI COUNTY ADVERTS

His Excellency Zachary Okoth Obado took humanitarian relief materials to parts of Migori County affected by the on-going floods.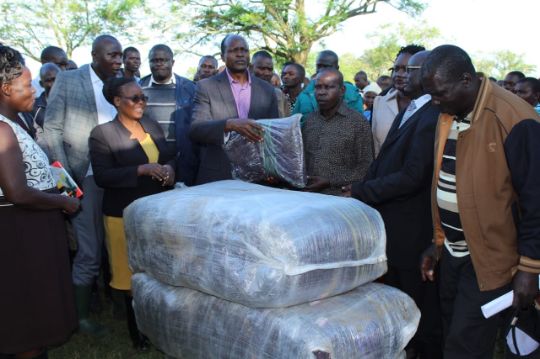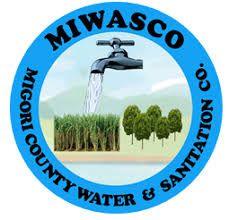 MIWASCO VACANCIES
WRITEN BY SUPER USER CATEGORY: MIGORI COUNTY ADVERTS

Migori County Water and Sanitation Company Ltd (MIWASCO) is seeking to recruit suitably qualified Kenyans to fill the following five positions. MIWASCO is a Water Service Provider fully owned by the County Government of Migori and contracted by Lake Victoria South Water Works Development Agency (LVSWWDA) to provide water and sanitation services under the license of Water Sector Regulatory Board (WASREB) in the approved service areas of Migori County under the Water Act 2016.
 Click below for details

HER EXCELLENCY THE FIRST LADY MIGORI COUNTY HELEN OBADO PRESIDED OVER A COLORFUL CELEBRATION THAT SEEKS TO IMPROVE AWARENESS OF ALL THE CONTRACEPTIVE METHODS AROUND THE WORLD DURING THE WORLD CONTRACEPTION DAY(WCD)
WRITEN BY SUPER USER CATEGORY: MIGORI COUNTY ADVERTS

Her Excellency Helen Obado first lady Migori County, presided over a colourful celebration that seeks to improve awareness of all the contraceptive methods around the world during the World Contraception Day(WCD), which is a campaign that centres around a vision where all pregnancy is wanted. WCD's mission is to improve awareness of Contraception and to enable young people make informed choices on their sexual reproductive health. 
 There is still lack of proper access to sexual and reproductive health and information services, like modern contraceptives and family planning services. These services when implemented can reduce the number of unintended pregnancies and their consequences: the dangers associated with unsafe abortions (one of the main causes of maternal death especially in young women) and school dropouts. 
 As we celebrate the World Contraception Day today in Mabera, Kuria West Subcounty, the high rate of teenage pregnancy is a burden in Migori County and therefore every young person has a right to be informed about affordable and effective contraception methods.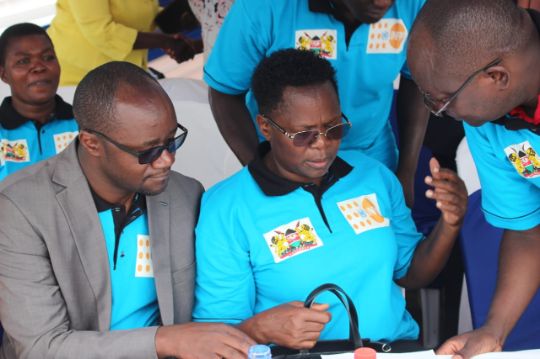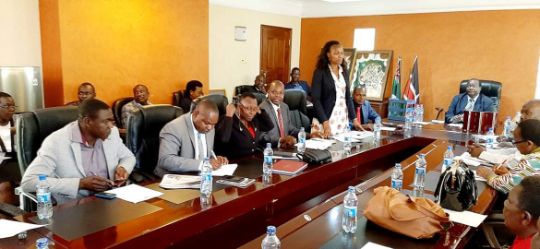 MIGORI COUNTY GOVERNMENT THROUGH THE DEPARTMENT OF TRADE, COOPERATIVE AND TOURISM HELD A CONSULTATIVE MEETING TOGETHER WITH OFFICIALS FROM EAC AND REGIONAL DEVELOPMENT TO INITIATE THE PROCESS OF ESTABLISHING JUMUIYA CROSS BORDER MARKET(CBM) AT ISEBANIA.
WRITEN BY SUPER USER CATEGORY: MIGORI COUNTY ADVERTS

Migori County Government through the Department of Trade, Cooperative and Tourism today held a consultative meeting together with officials from EAC and Regional Development to initiate the process of establishing Jumuiya cross border market(CBM) at Isebania Border.

The objective as envisioned, is to increase Kenya's share of intra EAC trade and provide practical benefits to citizens living in Migori County.

We the department of Trade, Cooperatives and Tourism strongly believe the initiative is going to improve the business environment and make it more attractive to both wholesalers and retailers and ensure fair Trade practices and consumer protection.

HIS EXCELLENCY ZACHARY OKOTH OBADO HAS THIS MORNING OFFICIATED THE OPENING OF THE MIGORI COUNTY LEVEL FOUR HOSPITAL CT- SCAN CENTRE.
WRITEN BY SUPER USER CATEGORY: MIGORI COUNTY ADVERTS

His Excellency Zachary Okoth Obado has this morning officiated the opening of the Migori county level four hospital CT- scan centre at Migori County Referral Hospital. This is a milestone in Medical services delivery in Migori County. Previously we have been referring basic cases of computerised tomography (CT) scan and Magnetic Resonance Imaging(MRI) to other neighbouring facilities in Eldoret kisumu, Tenwek and recently Kisii which in turn was so costly and service delivery was also delayed.
His Exellency has also launched the County Intergrated Developement plan 2018 - 2023, the National Health Sector Strategic Plan and Medium Term Expenditure Framework (MTEF) budgeting process of the County Government.
The Strategic Plan focuses on various issues including the expansion of health infrastructure where we intend to upgrade Migori County Referral Hospital to a Teaching and Referral Hospital; Kuria West Sub County Hospital to a Level Five Hospital and 14 other hospitals to Level Four status. Thank you and May God bless you all.

Images Below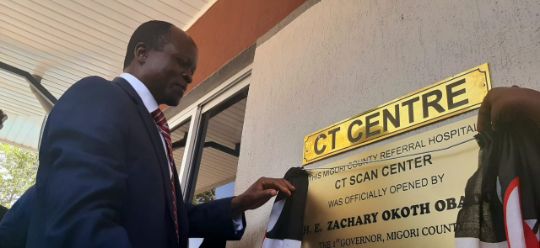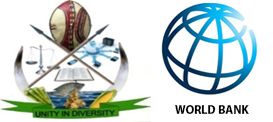 KENYA URBAN SUPPORT PROGRAM PROJECT
WRITEN BY SUPER USER CATEGORY: MIGORI COUNTY ADVERTS

Kenya Vision 2030 highlights rapid urbanization as one of four key challenges facing the country. However, Kenya is still under-urbanized. Therefore there is potential to leverage urbanization for improving economic opportunities and living conditions. The Government of Kenya has recognized the need to manage urbanization as part of its overall development strategy.

World Bank through KUSP seeks to support the implementation of the Kenya Urban Programme (KenUP), which is the Kenya government's development strategy emanating from and giving life to the Kenyan National Urban Development Policy (NUDP).

The program is designed to run for five years and aims to establish and strengthen urban institutions to deliver public goods and services for the three urban areas in Migori County namely Rongo, Awendo & Migori. This is done taking cognizance of the role played by urban areas as engines of economic growth, prosperity and modernization. Upon its implementation, the county will be able to tap on the potential of urbanization for sustainable development.

Project Implementation Strategy

Expenditure areas

The expenditure is divided into two themes i.e. Urban Institutional Grant & Urban Development Grant.
 Under the UIG the county will get a grant of 50 Million while in the UDG, the towns will be awarded different amounts with Rongo, Awendo & Migori getting
 1,639,360, 2,174,840 & 1324680 USD annually respectively.

UIG Expenditures 
 Urban planning activities 
Training costs (e.g., for Municipal Board members or other relevant county staff) 
Workshops and learning events 
Meeting costs, including local travel allowances, refreshments (e.g., related to the development of Municipal Charter and other urban planning activities) 
Experience sharing and peer-learning activities with other counties 
Incremental office operating costs (stationery, etc.) 
Office equipment and furniture (for urban boards and administrations), and 
Short term consultancy costs (e.g. related to the establishment and strengthening of urban institutions).
UDG Expenditures

Waste management (liquid and solid).
 Storm water drainage. 
Connectivity (roads, non-motorized transport facilities, and street and security lights). 
Urban social and economic infrastructure (urban greenery and public spaces) and 
Fire and disaster management.
THE GOVERNOR LED A TEAM INCLUDING CS MATIANG'I TO A FUNDS DRIVE AT KADIKA SDA CHURCH
WRITEN BY SUPER USER CATEGORY: MIGORI COUNTY ADVERTS

Giving is an act of worship to honour and glorify God and to show our love for God. In this spirit, the governor joined Adventists and fellow leaders at a fundraising event at Kadika SDA Church in aid of the construction of a Camp site. It was indeed a great Sabbath! 

Thank you for your warm welcome and May God bless you all.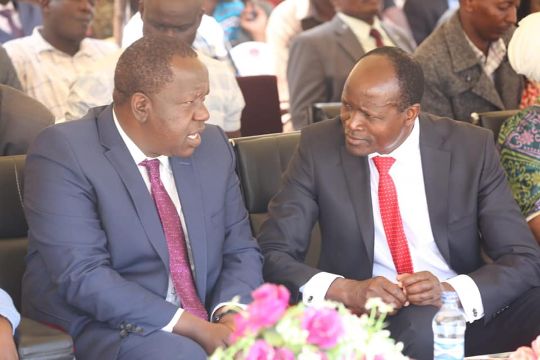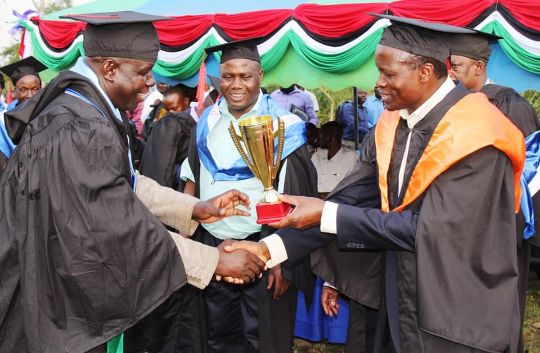 THE GOVERNOR ATTTENDED 1ST GRADUATION OF MACALDER YOUTH POLYTECHNIC IN NYATIKE SUB COUNTY.
WRITEN BY SUPER USER CATEGORY: MIGORI COUNTY ADVERTS

My government encourages the utilisation of Polytechnics and other Vocation schools as they provide a place for those who are unaware of which career path to choose.

Vocational education also equips the students with practical experience and technical skills in a specific type of field.

REQUEST FOR PROPOSAL (RFP) FOR THE DESIGN AND SUPERVISION OF THE PROPOSED COUNTY OFFICE HEADQUARTERS, GOVERNOR AND DEPUTY GOVERNOR'S RESIDENCES FOR COUNTY GOVERNMENT MIGORI (2)
WRITEN BY SUPER USER CATEGORY: MIGORI COUNTY ADVERTS 
COUNTY GOVERNMENT OF MIGORI 
 TENDER NO: CGM/RFP/EXC/227/2018-2019 
 TENDER DESCRIPTION: REQUEST FOR PROPOSAL (RFP) FOR THE DESIGN AND SUPERVISION OF THE PROPOSED COUNTY OFFICE HEADQUARTERS, GOVERNOR AND DEPUTY GOVERNOR'S RESIDENCES FOR COUNTY GOVERNMENT MIGORI 
 Closing: 9th May, 2019

TENDERS MARCH 2019 (2)
WRITEN BY SUPER USER CATEGORY: MIGORI COUNTY ADVERTS
COUNTY GOVERNMENT OF MIGORI - INVITATION TO TENDER
Financed by Water Fund

TENDER NO: NYAWASSCO/WSTF-J6P/08/2019

 TENDER DESCRIPTION: CONSTRUCTION OF NYASARE WATER SUPPLY PROJECT

CLOSING/ OPENING DATE: Thursday 12th April 2019

GOVERNOR LAUNCHES DEVELOPMENT PROJECTS
WRITEN BY SUPER USER CATEGORY: MIGORI COUNTY ADVERTS

The Governor of Migori has launched the construction of three World Bank supported projects in Migori County. The World Bank, through the Kenya Urban Support Program will support three municipalities namely; Rongo, Awendo and Migori with a total grant of about Kenya shillings 500 Million. In the first year of the program, the following projects will be undertaken in the selected municipalities:

Migori:

Construction of Ombo modern market and Ombo access roads [Kshs 133M]

Awendo:

Construction of Awendo public recreational park and upgrading of Awendo township roads to bitumen standards [Kshs 219M]


Rongo

: Construction of Rongo Bus Park and Upgrading of Rongo township roads to bitumen standards [Kshs 165M] The implementation of these projects will help the county realise sustainable development goal number 11 of ensuring that cities and other human settlements are safe, inclusive, resilient and sustainable and reverse the urbanization of poverty.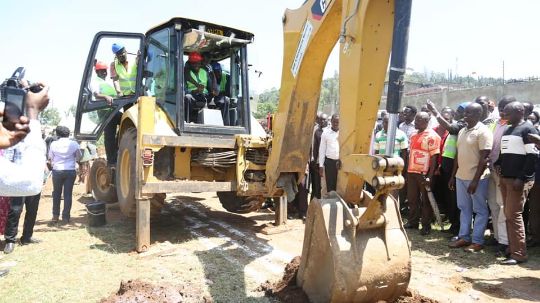 TENDERS JANUARY 2019 (2)
WRITEN BY SUPER USER CATEGORY: MIGORI COUNTY ADVERTS
COUNTY GOVERNMENT OF MIGORI - INVITATION TO TENDER

TENDER NO: CGM/EU/01/2018-2019

 TENDER DESCRIPTION: CONSTRUCTION OF GETONGANYA SWEET POTATO PROCESSING PLANT- FACTORY BLOCK

 CLOSING/ OPENING DATE: 5TH FEBRUARY, 2019

TENDER NO: CGM/EU/02/2018-2019 CGM/EU/01/2018-2019

TENDER DESCRIPTION: CONSTRUCTION OF GETONGANYA SWEET POTATO PROCESSING PLANT- OFFICE BLOCK

 CLOSING/ OPENING DATE: 5TH FEBRUARY, 2019